Electronics As Material – Eyebeam Art and Technology gallery
Solo show by Ayah Bdeir
New York
April 30th – May 15th, 2010
Exhibit pictures here
Electronics as Material is the launch exhibition for littleBits, a growing library of pre-assembled circuits, made easy by tiny magnets.
Talk to Me – MoMA, New York
Curated by Paola Antonelli (US) & Kate Carmoody (US)
A show at the Museum of Modern Art (MoMA)
July – November 2011
Talk to Me featuring featuring a variety of designs that enhance communicative possibilities and embody a new balance between technology and people, bringing technological breakthroughs up or down to a comfortable, understandable human scale.
Exhibit link here
Impetus – Ars Electronica
Works from the MIT Media Lab at , Human Nature
curated by Hiroshi Ishii (US) & Amanda Parkes (US)
September 2009
Exhibit link here
See all projects from the exhibit here
Identities in Motion – Peacock Visual Arts Gallery
Solo show by Ayah Bdeir
03 October – 14 November, 2009
The Middle East is the most mediatised region in the world, and yet Arabs are not thought to have layers, or complexities. Instead the Arab is cast into stereotypes: sunnis, shiites, warlords, sheiks, belly dancers.
Identities in Motion is a series of works by Ayah Bdeir that looks to contemporarise images of Arab identity, reinterpreting often archaic, frozen and homogeneous imagery. The works deal with the obsession of the media to flatten the Arab identity and reduce it to a set of cliche images and iconographies.
Identities in Motion raises questions around complex life in the Arab world, its sexuality, social relations, political instabilities, economic disparities and memories.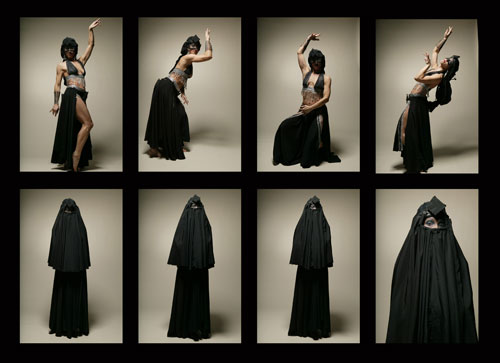 Open Stitch – Location One Gallery, New York
Conceived and organized by Sebastien Sanz de Santamaria in collaboration with Jessie Cohan
September 7th – September 30th, 2005
Runway show: October 1st, 2005

15 artists will spend seven days at Location One working intensely and in restricted conditions to produce wearable creations with only the tools and materials provided to them. A cross between art and fashion, the project temporarily removes the gallery from the appointed function of "showing" and moves it to the world of artistic production, raising questions about the circumstances, both physical and mental, of the creative process.
Open Stitch removes artists from the comfort of their own environments, imposes constraints, and compels them to work among others. The action will be documented via live-streamed video. Following the production stage, the gallery space will be left in its raw, post-production state, and an installation of the work produced will be on display. A video montage of the production process will be projected as part of the installation.
Exhibit link here.