Identities in Motion
Solo show by Ayah Bdeir at
Peacock Visual Arts Gallery
Aberdeen, Scotland
03 October – 14 November, 2009

Identities in Motion is the accompanying exhibition to the festival Cruel Weather. Recent Film/Video from the Arab Middle East, featuring screenings and events at Peacock and other venues around Aberdeen from 3 October to 14 November 2009.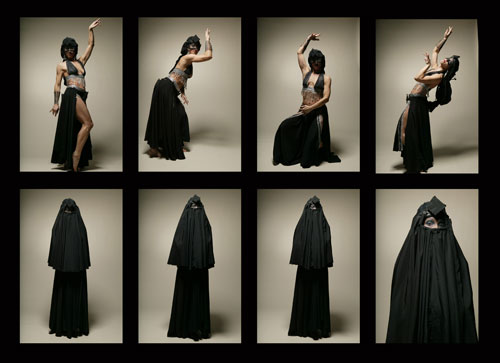 Statement
The Middle East is the most mediatised region in the world, and yet Arabs are not thought to have layers, or complexities. Instead the Arab is cast into stereotypes: sunnis, shiites, warlords, sheiks, belly dancers.
Identities in Motion is a series of works by Ayah Bdeir that looks to contemporarise images of Arab identity, reinterpreting often archaic, frozen and homogeneous imagery. The works deal with the obsession of the media to flatten the Arab identity and reduce it to a set of cliche images and iconographies.
Identities in Motion raises questions around complex life in the Arab world, its sexuality, social relations, political instabilities, economic disparities and memories.